OUR AWARD WINNING FRESH SAUSAGES.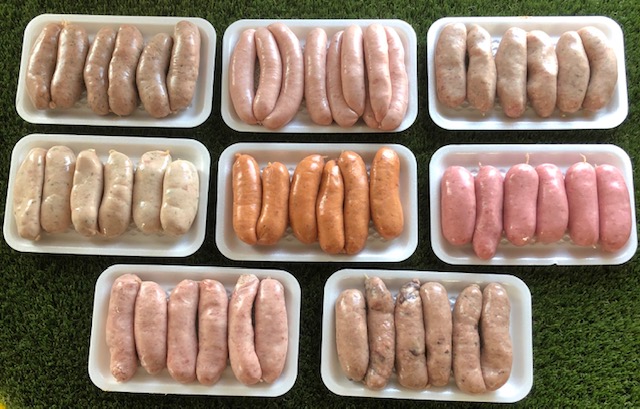 Our fresh sausages are available in the following flavours;
Traditional Pork,  Cumberland,  Pork & Leek,  Pork & Apple,
Pork & Black Pudding,  Pork & Chilli,  Lincolnshire,  Old English,
Wild Boar,  Chipolata.
We also sell a range of frozen catering sausages,
Blakeman's 4s & 8s,  Gills,  Lincolnshire, Country Park – CP8s,  Pork & Beef.
---
Large Sausage Swirl;
Our hugely popular large sausage swirls
are made in house from our award winning fresh sausage,
rolled into a swirl and pinned, trayed & frozen.
Sold as a tray of two swirls & can be cooked from frozen.
Flat Sausage Patty;
This recent addition to our range is proving very popular,
Hand pressed in house using our award winning
fresh Lincolnshire sausage meat.
Each patty is approximately 2oz (56g)  in weight and approximately 4″ (10cm) diameter.
Sold in 6lb (2.72kg) bag containing approximately 48 patties.