WE ARE STILL OPEN FOR HOME DELIVERIES, OUR SHOP IS STILL OPEN FOR ALL YOUR MEAT & MORE NEEDS.
MEAT PACKS FOR YOUR FREEZER, DELIVERED TO YOUR HOME,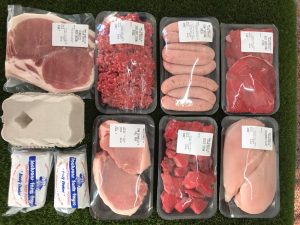 All of the above for £30.00 available for collection or delivered in the Bolton area; Best Braising Steak, Chicken Fillets, Diced Steak, Minced Steak, Pork Steaks, Traditional Pork sausages, Back Bacon, 6 x Eggs, 2 x Rag Puddings. (all packs are approx 500g).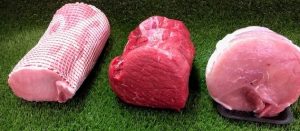 Add a roasting joint for a extra £18.00 each; choose from; Beef, Pork, Gammon. (all joints approx 2kg each).
Just give our office a call on 01204 395754 & we will do the rest.
We have been established for over a decade and we have more than 30 years of experience providing a high quality butchers service. We are certain that you will be entirely satisfied with Meat Direct Ltd. You can rest assured that our meat, poultry and dairy products are of a high standard and our service is impeccable. We work to a accredited STS and Bolton Council standard. For professional butchers in Bolton contact Meat Direct Ltd today.
In response to customer demands we now carry a full range of tinned goods, pies, pasties, fries, sauces and much more. Check out our miscellaneous page for a full list.
Gluten free and reduced fat sausages along with gluten free burgers and shish kebabs are available to order.
We also have our traditional butchers shop, offering a full range of quality produce at highly competitive prices within our premises which is open to the public with a large free car park at the rear;
CHRISTMAS WEEK EXTENDED OPENING UNTIL 5pm !!!!!!!!!!!!!
Monday;  6am – 2pm.
Tuesday;  6am – 2pm.
Wednesday;  6am – 2pm.
Thursday;  6am – 2pm.
Friday;  6am – 5pm.
Saturday;  6am – 2pm.
With the recent revelations regarding the quality of minced meat, all our minced meats are minced fresh daily, in house. We do not, nor have never bought in any pre minced or pre processed meats. We also have full traceability for all our meats, working to accredited STS standards.